When:
November 23, 2019 – November 24, 2019
all-day
2019-11-23T00:00:00+02:00
2019-11-25T00:00:00+02:00
Where:
Inanda Country Base
Rose Rd & Maple Road
The S.A Eventing Champs 2019 will be hosted right here on your doorstep at the Inanda Country Base this Saturday 23rd and Sunday 24th November! Riders are holding their breath to see what challenges they have in-stall for them and their trusted steeds. The map below shows the track competitors will be riding for the Championship 3* Class – top eventing riders and horses will be competing for the title.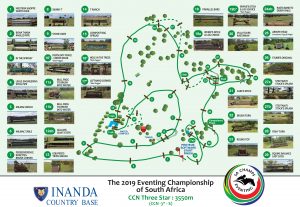 Schedules are available online on the Eventing S.A website.              Click to view the SA Champs PROGRAMME – Competitors. 
For the 2019 Eventing Championship of South-Africa
, competitors will be coming in from; Cape Town, George, Kwazulu-Natal, Mpumalanga and Swaziland. Eventing is the triathlon of equestrian sports, each competitor and the same horse compete in three different phases being Dressage, Cross Country and Show Jumping throughout the weekend.
Tim Payne, our very own international course designer and his team are hard at work with the construction of the 3* cross country course – over 30 obstacles placed over a distance of 3575ms. The Mini Champs will be over a distance of 3000ms as well as three other tracks for the 1m, 90 and 80 levels. Ditches, banks, logs, water crossings, the broken bridge, and old dairy ruins are just some of the obstacles they may encounter.
The atmosphere is certainly building up excitement for this event. The weekend will kick off with a welcome party on Friday night at our wonderful Clubhouse. All are welcome! Please contact Patrick Brown on 082 453 8484 for more information. 
Sunday the 24th will be the day of the Championship Classes with some added entertainment and a diverse market with fashion from local designers, arts, crafts, animal products, delicious food, tasty gin, and locally brewed craft beer – a beautifully diverse market that will make Christmas Shopping easy!
The Rand Hunt and S.A Lipizzaners will be performing magical displays – together with the thrills and spills of our competitors and their horses throughout the weekend. We will also have the listening pleasure of some beautiful acoustic and acapella music performed by some aspiring young artists at our Busker Corner, from The Performance Academy together with the very talented performers – The Amavevane Acapella group.   Be sure to prepare for christmas shopping and, not miss out on this wonderful day out in the beautiful countryside of Johannesburg!
With great prize money to be won and generous sponsorship supporting the event – The 2019 S.A  Eventing Championship will certainly be well worth the wait and hard work!
 3* Track Map. 
Follow us on the ICB Facebook Page for updates and news about our shows and events!